POLYGREEN PLAY - Playground Turf Padding
IPEMA Certified System with up to 12' Fall Height
With decades of proven success in commercial playground applications, re-engineered PolyGreen Play is the ideal underlayment for playgrounds utilizing synthetic turf surfacing. The impact absorbing padding provides a soft, safe cushioning system beneath the turf among other many key benefits.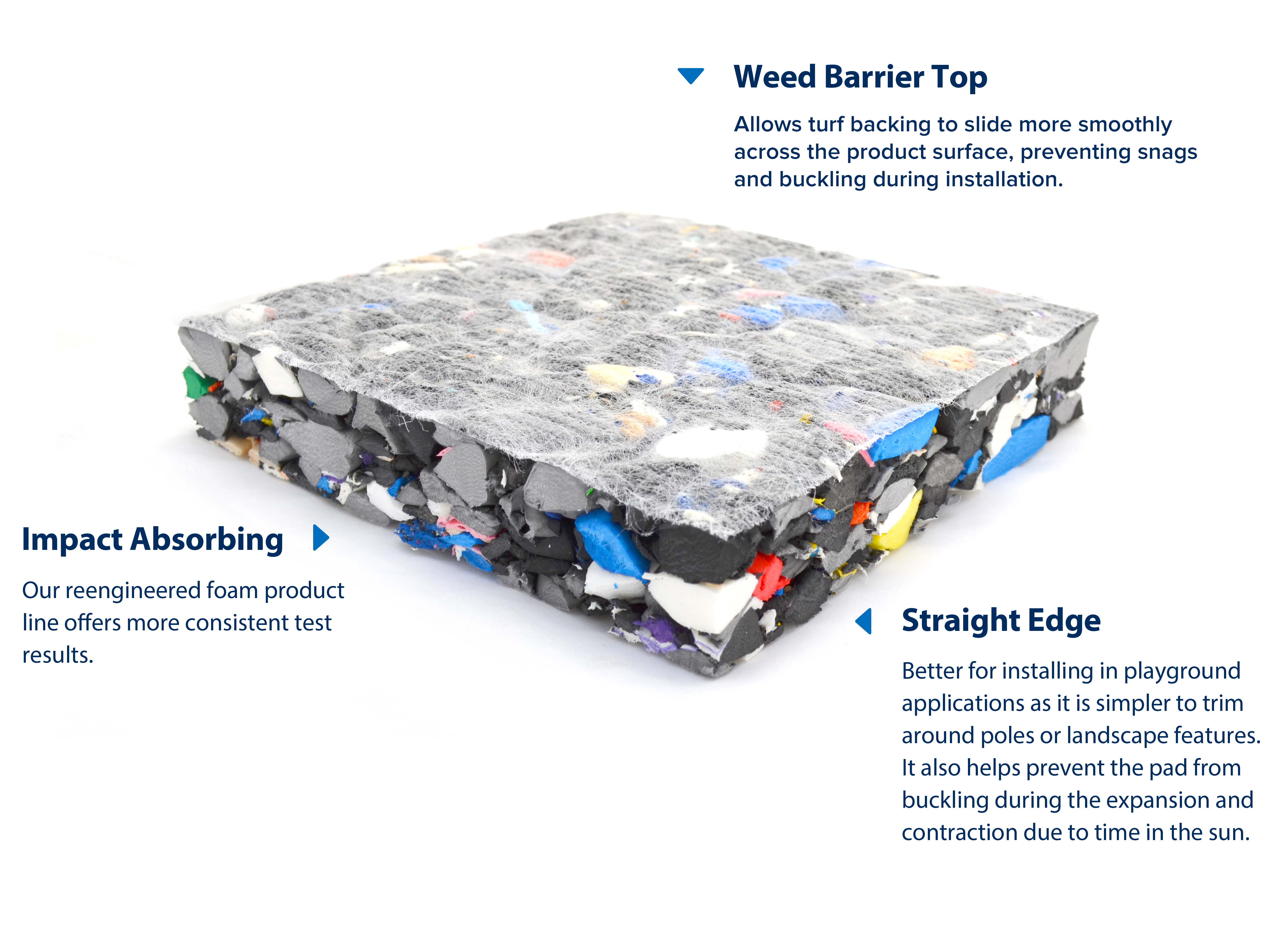 Environmentally Friendly
Polygreen Play is made from 100% recycled, noncontaminated, post industrial cross-linked closed cell polyethylene foam. It is completely free of rubber, lead and heavy metals and is 100% recyclable.
Clean
Polygreen Play is completely non-microbial and will perform for years without decay, deformation, mold or fungus growth.
Quick Draining
Polygreen Play's unique drainage characteristics allows water to drain very rapidly both vertically and laterally so playgrounds stay drier, safer and cleaner. The highly porous material does not absorb water or other liquids so it is ready to be played on shortly after the rain stops - creating more hours of enjoyable play time each year.
Safe
Polygreen Play provides consistent ASTM F1292 HIC and GMAX ratings independent of infill used in turf. It is highly elastic and retains its shock absorbing characteristics for many years.
Performance
In addition to its safety characteristics, Polygreen Play feature a geotextile on one side to inhibit weed growth and enhance the overall performance of the padding.
Cost Effective

Polygreen Play often reduces the amount of crushed stone required and a single panel covers 24.547 ft2 providing additional time and cost savings.
American Made Quality

Polygreen is made in the U.S.A. to our exacting standards and backed by an 8 year warranty with 2-3 turf cycle life expectancy. The state-of-the-art manufacturing facility and top -of-the-line machines guarantee a consistent product is supplied every time.
NEW Standard Sizes
Polygreen Play is now available in 39 1/16" x 90 9/16" panels, which allows for easier loading/unloading, ensuring your pad is delivered in pristine condition.
Quick Ship Product Specifications
Made from 100% recycled, post industrial foam and is 100% recyclable. Please click on the size to download specifications.
Thickness

1 1/4" Download Specs

2 1/4" Download Specs
Panel Size

39 1/16" x 90 9/16"